How To Make Cricut Projects Dishwasher Safe
Disclosure: Some of the links below are affiliate links provided for your convenience. This means, at no additional cost to you, we will earn a commission if you click through and make a purchase.
If you want to make Cricut projects dishwasher safe, you've got to check out this post to learn the secret! We love knowing that no matter what you create, you can seal it and make it dishwasher safe. I think that gives so much more freedom to create more things with your Cricut machine.
I'll be honest. When someone gives me a gift, I'm so grateful for it. If it has to be hand washed though, it often gets put on a shelf and rarely used. I'm super busy and want to know that I can just throw things into the dishwasher to save some time. We love making DIY Cricut craft projects for ourselves and giving them as gifts. Now, they can be dishwasher safe too!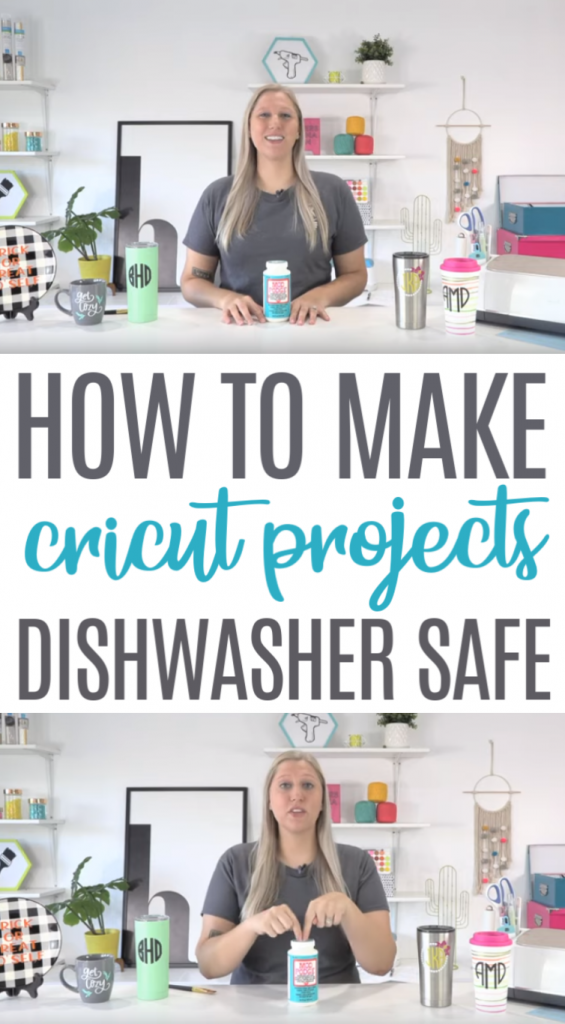 How To Make Cricut Projects Dishwasher Safe
How great would it be to be able to make your Cricut projects dishwasher safe? Just think of the possibilities – mugs, stainless steel tumblers, plastic tumblers, even some home decor items (think about coasters!) can all be made dishwasher safe with this simple technique.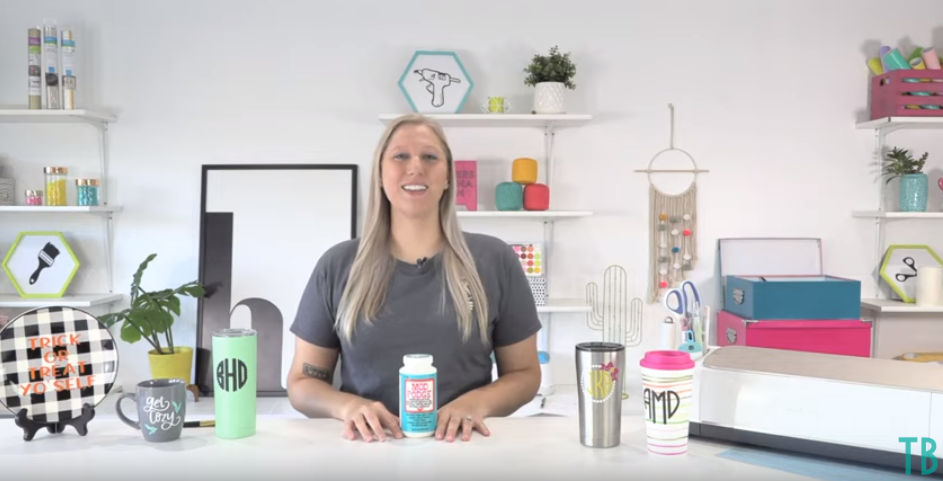 The secret to this is Dishwasher Safe Mod Podge. If you've been crafting for years and years like we have, you've probably used Mod Podge before but many people don't realize that there is a dishwasher safe version of it.
You may have even had experience with using regular Mod Podge for something like a coaster and found that when it got damp, it became kind of tacky or slimy. Well, don't worry. Dishwasher Safe Mod Podge doesn't do that at all.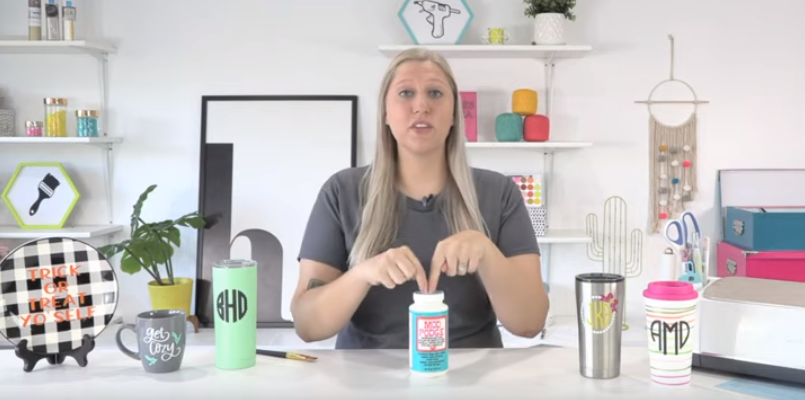 You don't need to use a lot of it for your project so a bottle of it will last for quite a long time. And it's available at a great price point too! You can use it over regular vinyl, of course, but it works really well over HTV glitter vinyl too!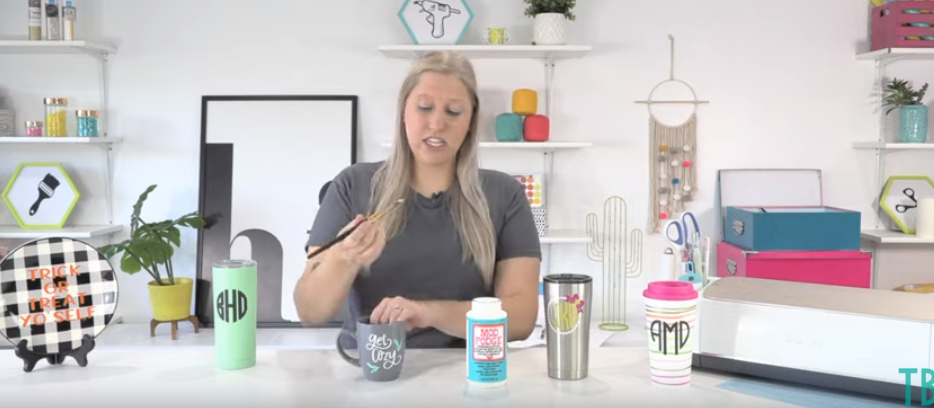 It's really as easy as it sounds. Simply brush it over the vinyl you've applied to your surface. You can also choose to apply it over your entire surface instead of just to the decal.
It's important to note that this product is not food safe. You don't want it around the rim of a mug, for example, where your lips will touch and you don't want to use it on a plate or bowl that will touch food.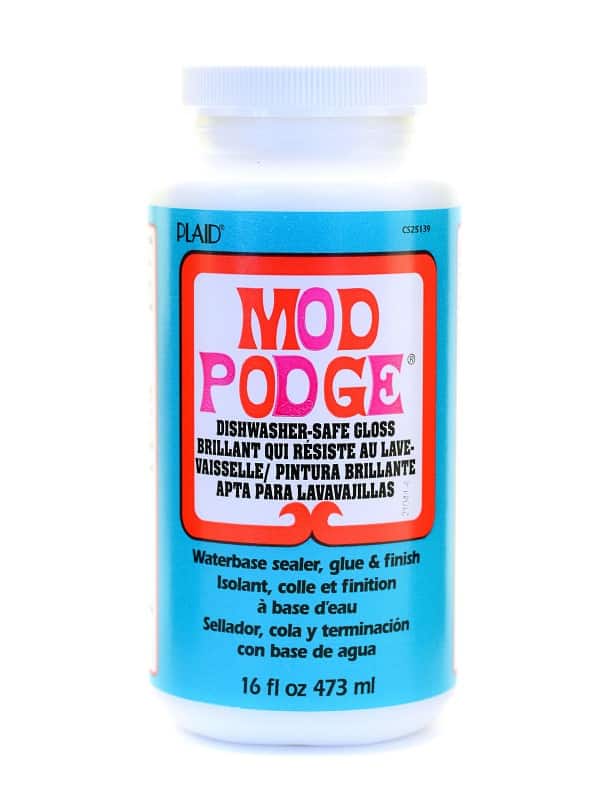 Use a foam brush or a special Mod Podge brush that is designed to leave behind fewer brush strokes to apply it over your vinyl decal on your craft project. Apply a total of 2-3 coats, allowing it to dry completely in between each one.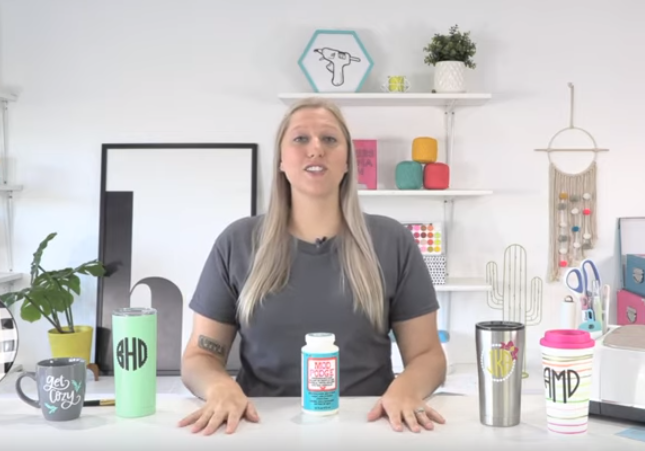 There is one downside to this product. It has a cure time of 28 days. That means you need to set it aside and let it sit there unused for 28 days before it goes through the dishwasher.
So, if you're making this as a gift or for your craft business, you want to plan ahead. It will dry hard in 24 hours, but you would need to warn people that it's still not ready for the dishwasher for another 27 days after that.
Isn't this fantastic? Just think of the possibilities for your craft business or gift giving!